Press Release: "Adult Vaccination in the Asia Pacific: Mobilizing Policy and Practice Knowledge" Report
IFA launches the report "Adult Vaccination in the Asia Pacific: Mobilizing Policy and Practice Knowledge" which highlights the context, barriers, gains and identified solutions related to adult vaccination in the Asia Pacific.
To read the full report, click here.
27 August 2019
Toronto, ON – Today, the International Federation on Ageing (IFA) launches the "Adult Vaccination in the Asia Pacific: Mobilizing Policy and Practice Knowledge" report, that highlights priority areas for policy development and action toward improving adult vaccination in the context of healthy ageing in the Asia Pacific.
Thought leaders and experts from government, academia, industry and civil society across the fields of ageing, public health, public administration, infectious disease, vaccination, nursing and medicine gathered to bring attention to a life course approach to immunization through recognizing the barriers, sharing gains already made and discussing solutions.
Countries' differences, as well as similarities in the six countries represented at the meeting, served as a reminder of the systemic nature of the barriers yet the opportunity to learn and change the current landscape through:
Improved surveillance and data collection: Significant gaps exist within all Asia Pacific countries in data systems for the collection and interpretation of information on older adults, infectious diseases and vaccination.
Education and raising awareness: Vaccination has life-long benefits which are significant to the individual, family and society however the awareness of their value is poor at best. Education of health care professionals, older people and their families and especially those who are most at-risk of infectious diseases and the complications is critical.  Long term mortality is a reality.
Informed public health policy: Collective leadership across sectors and disciplines in the development and implementation of public health actions to address the systemic barriers to vaccination uptake is a cornerstone of a healthy contributing society.
Attention to at-risk groups: Vaccination is a highly cost-effective health intervention yet some of the most vulnerable and most marginalised subpopulations of society are unable to access the most basic vaccines. Special attention should be given to these groups which include older people, Indigenous people and people with chronic diseases in the development of a public health campaign that counters systemic barriers and implicit biases both within and outside of healthcare services.
The Asia Pacific region comprises countries of varying demographic change, social and economic trajectory, cultural and spiritual fabric and thereby position in the world.  Despite these differences the value of a life course approach to vaccination with attention to adult vaccination is meaningful to each economy.
Not surprisingly there is a common agenda to be built across the Asia Pacific countries and lessons to be learned through the ongoing exchange of information.  Collective influence and action require planning and careful execution through partnership across sectors and disciplines.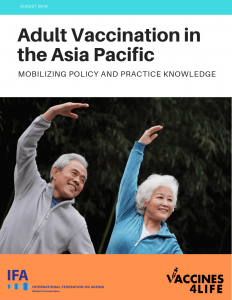 To read the full report, click here.
For media enquiries, please contact Wayne Nguyen at WNguyen@ifa-fiv.org
The IFA expert meeting "Adult Vaccination in the Asia Pacific: Mobilizing Policy and Practice Knowledge" and resulting report were made possible by an unrestricted educational grant from Pfizer.­
—
About the International Federation on Ageing: The International Federation on Ageing (IFA) is an international, non-governmental organization (NGO) with a unique membership base comprising government, NGOs, academics, industry, and individuals in over 70 countries.  Now over 45 years old, the IFA has become known as a leading and innovative organization that works across disciplines and sectors toward common goals that improve the lives of older people.  Through the IFA's formal relations with the World Health Organization (WHO) and general consultative status at the United Nations and its agencies, the IFA is in the position to advocate directly with member states and contribute to and inform the intergovernmental dialogue.
About the IFA's Vaccines4Life (V4L) Program: V4L aims to help build a world where healthy ageing and functional ability of older people are maintained through strong vaccination uptake rates.  The program has grown to be one of the leading voices and advocates for adult vaccination, working at global, country and regional levels with the aim of unifying the message and actions across to stakeholders to drive policy and practice change.  V4L expert meetings and summits are convened as platforms to build a sustainable advocacy network and strategy that focus on specific barriers preventing a more comprehensive approach to changing policy.
The IFA World Coalition on Adult Vaccination acts as a focal point to bring together and disseminate good practice as well as consolidate the voices of experts and their organisations.  The Coalition formally comments on and highlights high-level strategies at the WHO, United Nations, and similar agencies, and elevates the critical policy focus through consensus statements and campaigns.